News
5 Ways to be a part of World AIDS Day 2023
Friday 1 December marks World AIDS Day - a chance to raise awareness in the community about the contemporary issues surrounding HIV. This year marks 40 years since our founding in response to the emerging HIV/AIDS epidemic. We have come a long way, but HIV is not over. Now is the perfect chance to show your support and remind others that HIV Still Matters.
In addition to our army of volunteers hitting the streets to hand out red ribbons, we will also be hosting our annual World AIDS Day Memorial and several other events.
Here's 5 ways you can take part in World AIDS Day 2023...
1. Take Part in the World AIDS Day Street Appeal
The street appeal is an incredibly rewarding and fulfilling experience. You'll be out on the street with ribbons and a collection bucket engaging the public in World AIDS Day. The appeal is a one-of-a-kind event raising awareness, spreading the message, and raising funds for people living with HIV and our work in HIV prevention. Sign up now to volunteer for a shift sometime between 7AM-4PM on 1 December! Even an hour on the streets helps.
Sign Up to Volunteer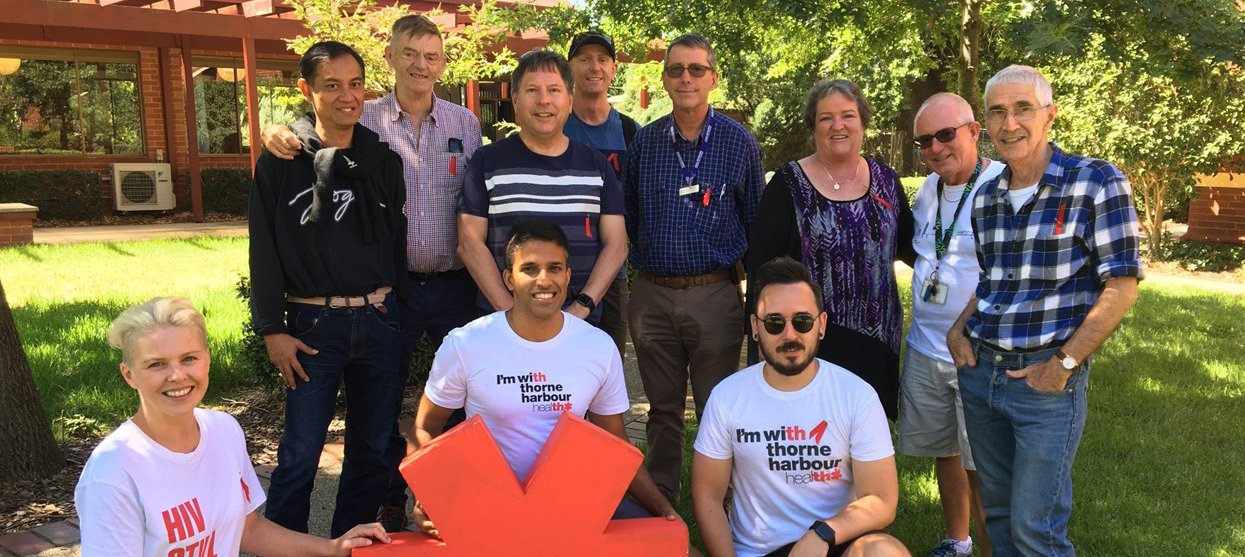 2. Attend a World AIDS Day Event
We have something for everyone at each of our three events planned in the lead up to World AIDS Day.
On Sunday 19 November, have the chance to make your own Red Ribbon and hear about the legacy of our community response to HIV and AIDS. We will have tables and materials set up to make Red Ribbons that can then be used for our street appeal on World AIDS Day.
The Red Ribbon has become the global symbol of HIV/AIDS awareness. First worn in 1991 by the Visual AIDS Group in New York, the following year the uniquely Victorian Red Ribbon was created by Brent Lacey. While it was cheaper to produce, the unique shape offered another more significant point of difference - the inverted 'V' design is to allow the ribbons to be turned upside down a create a 'V' for 'Victory' the day a cure for HIV is discovered.
Join us on Saturday 25 November for a traditional Aussie sausage sizzle outside Bunnings Collingwood. All funds raised will go towards supporting Thorne Harbour's services for people living with HIV and HIV prevention.
AIDS Memorial Garden Walking Tour:
Join us on Wednesday 29 November, two days before World AIDS Day, for a history-filled tour of the gardens, followed by a BBQ and speeches from key community stakeholders.
Originally established by Thorne Harbour Health volunteers over 30 years ago, the AIDS Memorial Garden remains a treasured resource and place of quiet reflection. The Garden is located on the grounds of the old Fairfield Hospital which was responsible for the care of the majority of HIV/AIDS patients in Victoria.
View All Our Events
3. Honour Those We've Lost at the World AIDS Day Memorial
This year we're coming together both in-person and online on Friday 1 December as we commemorate the many people in our communities who have died as a result of the HIV and AIDS epidemic. Doors open at 5.30PM and the ceremony will start at 6.30pm at the Positive Living Centre. Find out more and register here.
More Information
4. Get Your Organisation Involved
Whether you're a small business, a corporation, or a community organisation - you can run your own World AIDS Day activation with the support of Thorne Harbour Health. If you have a lobby or foyer, we'll bring an information booth and ribbons to hand out to your staff. We also offer World AIDS Day Webinars, designed to raise awareness and inform staff about HIV/AIDS. Fill out our online form now to sign your organisation up!
Sign Up Your Organisation
5. Visit the World AIDS Day Shop
Our World AIDS Day shop offers an easy way for you to take part and donate this World AIDS Day. We've got ribbons, t-shirts, pens and other World AIDS Day branded items available for you to show your support. All funds raised from the shop go directly towards HIV services.
Visit the Shop
But that's not all...
There are a number of events happening further afield. Head to: worldaidsday.org.au for events happening across Australia.